Joss Whedon may be my master, but Gabe & Tycho's massive pwnage of Jack Thompson this week earns them my completely unworthy worship for at least a good while. Remember how Thompson pledged 10,000 dollars to charity if anybody made a videogame according to his specifications? Well, somebody actually went ahead and did it; and big suprise,
Thompson claimed he was only joking
. Gabe & Tycho's response-donating 10,000 to charity in Mr. Thompson's name!
Jack Thompson's response-Trying to have them arrested(just what failure of a University gave this moron his law degree anyways?):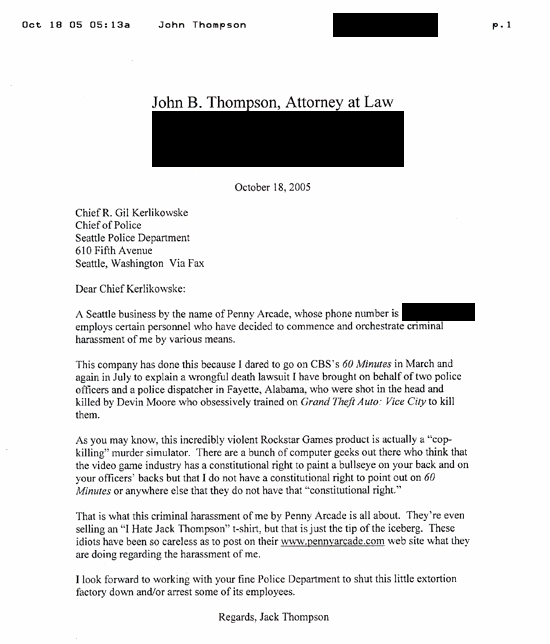 Yes he is a senile old coot that us gamers should laugh at. Here's the problem as Gabe & Tycho have pointed out-People are giving this guy some fucking attention. He was on CNN Monday night telling more blatant lies. Specifically that the NFL wanted nothing to do with Midway's upcoming Blitz: The League game because of it's edgier content than a normal football title when the reality is that the only reason the game is even being made is in response to EA's buying the rights to any & all NFL games. This man needs to be taken seriously, called on all his total bullshit, and recognized for the dregg of society that he truly is.
Moving on, game demos can be a very crucial thing, as they can make or break a game. That's why I was very disheartened trying out the new Dragon Warrior VIII demo I got by reserving said game. With all my highly anticipated rpgs quietly slipping to 2006 (Kingdom Hearts 2, Final Fantasy XII, Shadow Hearts 3, etc.), I was really hoping the latest Dragon Warrior would be able to fill my rpg needs. If the demo is any indication, it will fall way short of that. Not only do the characters look like Dragonball Z rejects: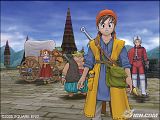 , but the preview is very oddly put together, seperating a story quest where all you do is talk to people until you find the right one, and showing off a very basic battle system that shows little to no innovation along with very bad translation. There is nothing here to indicate why in a country where they release rpgs as often as we release sports titles, why it is the best-selling PS2 game ever. Granted the Japanese have very quirky taste when it comes to their gaming, but this seems like some relic dressed up with fancy artistry that I personally don't care for.
Finally today, I got some time in with Nightmare Before Christmas: Oogie's Revenge. I wasn't sure what to expect of a title based of such an awesome movie but made nearly a decade later, but Capcom has pulled off a fairly decent effort with it. Presentation-wsie, the game is flawless, the characters & look of Halloweentown are represented very well, and it features great original music & lyrics with some help from the legendary Danny Elfman. Combat-wise, it's really not much different from Capcom titles like Devil May Cry where you work up massive hit combos with a few very cool weapons. And just for the sake of weirdness, which sort of fits, boss battles really depend on how good you are at Parappa the Rapper-style sequences. It's nothing I would highly reccomend, but worth a rental.
That's it for today, but I'll be back tommorow with views on all the big games hitting this week.